Activities
Week review
While the end of the year is coming closer and everybody is making sure they have plenty of vacation plans, we're still having tons of activities up till then.
Last Friday we had the Alumni Social where alumni came to have a beer and a chat with the current members. Of course it was also a bit like a reunion for a lot of people and it was great fun.
On Monday we had Wind surfing which had amazing weather. The wind took up a bit later in the clinic so we could first try the basics and later on pick up some speed. A big thanks to the boys and girls from SurfAce for making this possible!
After that we had the Candidate Board Announcement Social in the evening. Our new 6 person board was announcement and goes as following:
Chairman: Max Velich

Secretary: David Homan

Treasurer: Daan Lambert

Commissioner of Internal Affairs: Chris Ausema

Commissioner of External Affairs: Jan Christiaan Zwier

Commissioner of Education: Emily Beuken
Up next was EsGalatie on Wednesday with a lot of different study associations. People had great fun with the roaring twenties theme and the unlimited beer and wine.
Hope to see you all at the staff BBQ this evening!
-Kevin
And here is a snap of the candidate board after their announcement: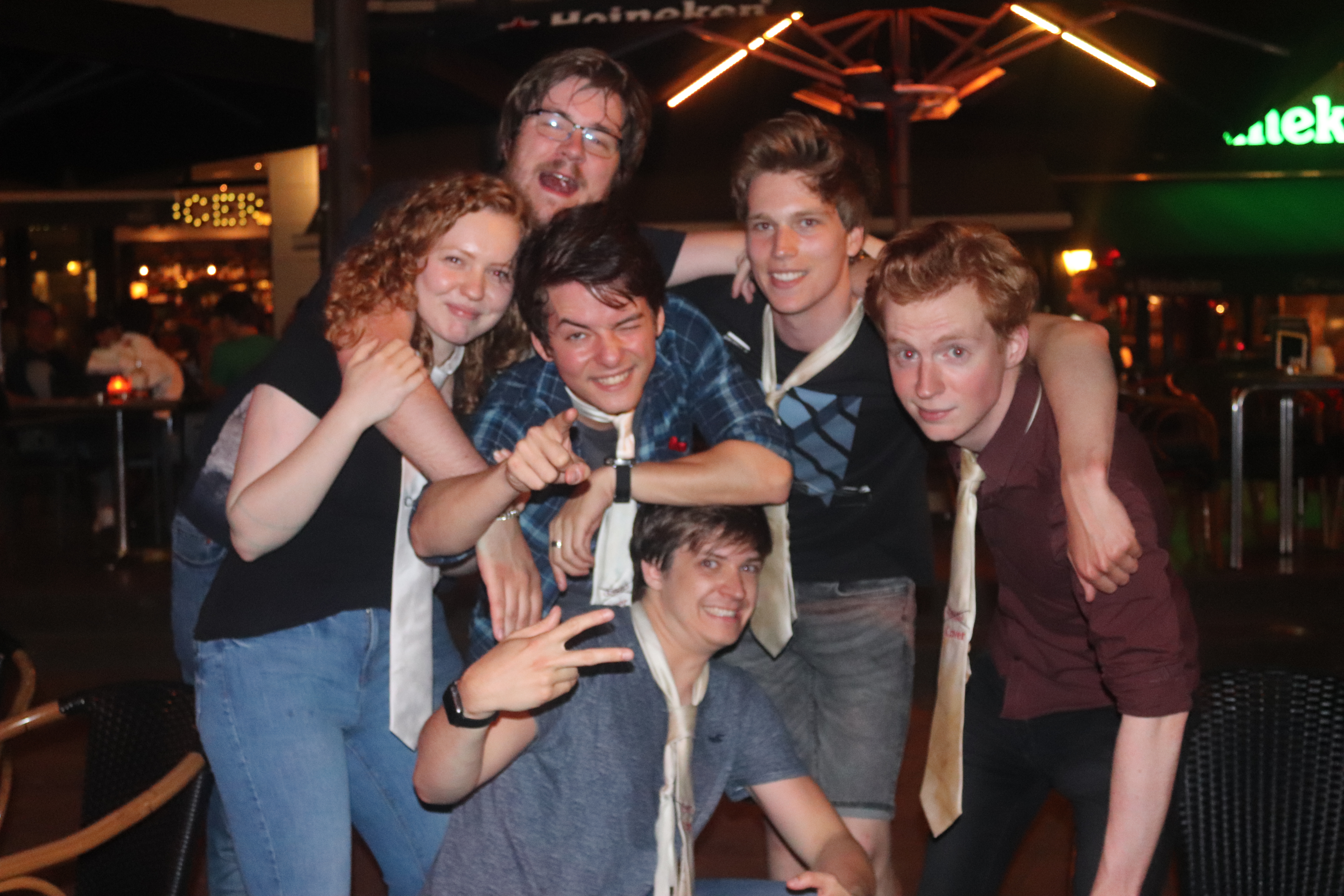 Staff BBQ
Friday 1st of June, 15:00 till 21:00, Field in front of the Bernouilliborg
On the 1st of June we will have our annual staff BBQ! So come join us in front of the Bernouilliborg and have nice food for only 3 euros. Sign-up at bbq.svcover.nl
General Assembly
Monday 4th of June, 19:00, Cafe De Walrus, Pelsterstraat 25
The last general assembly before the summer is almost here! We'll discuss the budget and year schedule for next year, but also a revised version of the long term plan. Don't forget the candidate board is also up for approval during this GA!
A short summary of the pieces can be found on the website
June Social: A touch of tiger
Wednesday 6th of June, 21:30, 't Gat van Groningen, Poelestraat 51
The end of the year is approaching quickly, so there are only a few possibilities to have some drinks with your friends at Cover and let your inner Tiger out! Dresscode for this Social is something with Tiger/Leopard print
Hackathon @ Dataprovider.com
Saturday 9th of June, 10:00 till 22:00, Mediacentrale, Helperpark 270 - 298, 9723 ZA Groningen
It's time for another hackathon! This time we will be hosted by Dataprovider.com, a vibrant young data company that specializes on indexing data from the internet.
They will be giving us access to their vast database (data from 300 million+ websites), and it will be your job to find the best solution to a problem by using your best data science and programming skills!
Sound interesting? Sign up here!
Food and drinks will be taken care of, and there will be a prize for 1st, 2nd and 3rd place!
[CAREER] TAD-talk: Peaks
Thursday 14th of June, 16:00 till 18:00, Coverroom
Time for the last TAD-talk of the year!
The Dutch start-up behind Peaks, one of the most refreshing investment apps of the past years will come and give a talk on how to get started with an innovative company, and lead a case on the implementation of Machine Learning in their system.
Peaks helps you to invest your change: every cent counts! To do so they have build a platform that helps you to set aside small amounts of money and invest it wisely. However, they do not yet use Machine Learning for this process, and would like your input to make this possible!
So come join us for this interesting and interactive TAD-talk, there will be drinks and pizza for everyone!
Study Support: Linear Algebra & Multivariable Calculus
Friday 15th of June, 13:00 till 15:00, BB 5161.0041b
Study Support: Neural Networks
Monday 18th of June, 13:00 till 15:00, BB 5161.0222
Study Support: Languages & Machines
Tuesday 19th of June, 13:00 till 15:00, BB 5161.0222
Study Support: General Linguistics
Tuesday 19th of June, 13:00 till 15:00, BB 5161.0293
PhotoCee Crazy 88 Closing TAD
Thursday 21st of June, 16:00, Cover room
At the May social the PhotoCee started their activity: a crazy 88. A bit over a month later, during this TAD, we will announce the winners of this competition and show the best/funniest submissions!
The final score of participating teams get finalised at the start of the TAD, so until then you still have the opportunity to sign up with your team and battle the other teams for the prizes!